Standard Brass Knuckles
(Click for enlarged view of following image.)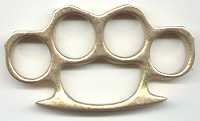 Large Brass Knuckles
(Click for enlarged view of following image.)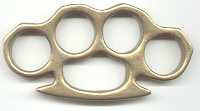 Standard Aluminum Knuckles
(Click for enlarged view of following image.)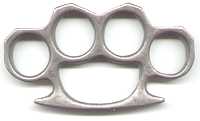 Large Aluminum Knuckles
(Click for enlarged view of following image.)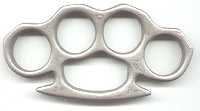 Shipping & Ordering
We are in process of relocating our facility and temporarily are out of production and unable to accept orders. Please check back periodically in future.
Shipping is $5.00 per order and includes delivery confirmation. It does not include optional insurance, which is an extra $2.30 for the first $100.00 and $1.05 for each additional $100.00.
We regret we are unable to accept international orders.
We do not ship our products to California, New York or Massachusetts.
We accept cash, checks and money orders. Cash is sent at the buyer's risk.
Make all checks and money orders payable to C.I.B.
Our merchandise comes with a no-questions-asked, money-back guarantee. If you are dissatisfied with your order for any reason, return it to us, within a week after you receive it, for a full refund of the product price.
USA Brass Knuckles
C.I.B., 1324 West Palo Verde Drive, Chandler, AZ 85224-2359
Telephone: 480.220.9864
E-mail